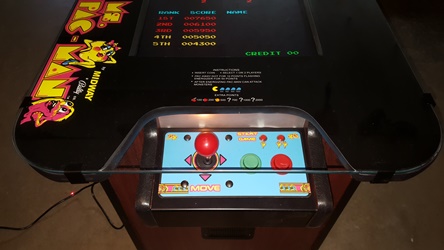 For Sale Ms Pacman Cocktail Cabinets.
These are built to order with quality finished wood and brand new 19" LCD screens. 60 games to keep interest level high! If you have ever wanted to own a classic PacMan, Frogger, Space Invaders, Centipede cocktail cabinet here is your chance. Difference between one of the old classics and this is you have up to date electronics so they are reliable.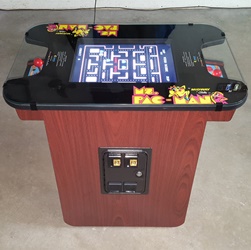 Set to free-play so just sit back and enjoy playing this list of games:
Super Breakout, Space Panic, Super Cobra, Centipede, Time Pilot, Phoenix, Hustler, Mappy, Pengo, 1942, Donkey Kong Junior, Donkey Kong 3, Donkey Kong, Ms Pacman, Galaxian, Frogger, Dig Dug, Galaga, Mr. Do, Crush, Mr. Dos Castle, Super Pacman, Pinball Action, Moon Cresta, New Rally X, Juno First, Scramble, Arkanoid, Xevious, Quix, Ms. Pac-Man (Fast Mode), Galaga ( Fast Fire Mode), Pac-Man (Fast Mode), Jumping Jack, Congo Bongo, Gun Smoke, The End, 1943 Kai, Pooyan, Pleiads, Shao-Lins ,
Road, King & Balloon, Pac-Man Plus, Van-Van Car, JR Pacman, Dig Dug 2, Pacman, Zaxxon, Amidar, 1943, Gyruss, Ladybug, Galaga3, Millipede, Bomb Jack, Burger Time, Tank battalion, Space Invaders, Jr. Pac-Man (Fast Mode), Pac-Man Plus (Fast Mode)
Cabinets can be made special order for finish and custom overlays as shown in the example.
Price is
$1400.00
for these new games.