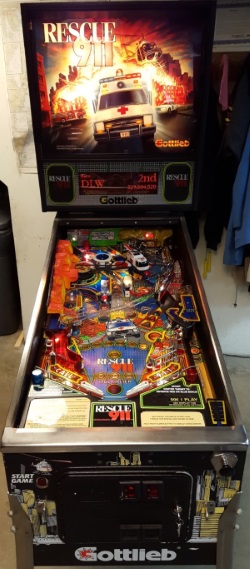 Gottlieb Rescue 911 – 1994 Pinball Machine:
Based on the TV show; includes fire engines, ambulances, and a helicopter that actually fly's!
"Real-life rescue excitement jumps off the screen and into your hands!"
An entertaining pin that will look great in any game room.
It features 2 and 3 ball multiball plays, as well as a Dot Matrix Display.
The game is in great condition and it plays great!
This pin has been shopped with the playfield stripped, cleaned, and polished. All playfield rubber has been replaced, and all lights are functional. Flippers have been rebuilt and new flipper bats installed. All functions checked for 100% operation.
Game is set for free play and can play four players.
Delivery can be arranged for a reasonable fee.
SOLD ~
$1800.00
Thanks for looking.