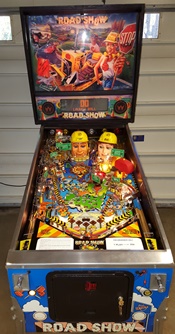 Williams Red and Ted's Roadshow 1994:
Classic pinball machine.
Game looks like new condition. Game has just been shopped; cleaned, waxed and polished.
All electronics brought up to snuff, diagnostics run, switches adjusted and tested for optimal play.
New rubbers, lights, flipper bushings and balls.
Cabinet is excellent along with the playfield and backglass. This game is quite entertaining and has two "talking heads".
This is a 1-4 player machine with 4 ball multiball capability. Game plays and looks like it is new and is a great addition to a game room.
SOLD:
$3400.00
Thanks for looking!