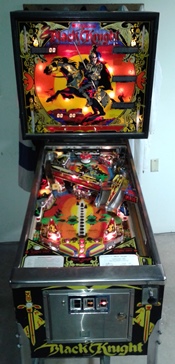 Williams Black Knight Pinball Machine

:
Game is in very nice shape. Game has been completely shopped. All electronics checked for reliability and replaced or reflowed where needed. Power supply rebuilt. Playfield totally stripped, cleaned, waxed and polished. All metal removed and buffed to mirror finish. New lights, rubbers, sleeves, plunger link and crank assemblies on all flippers, and new flipper bushings.

Game plays like new and is 100% functional. Game can be set for Free play. Arguably the best pinball machine created in the early 80's; including voice, two play levels, and 3 ball multiball. Features way ahead of its time.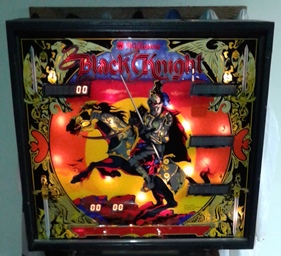 This game is known for its two-level playfield (a first for a pinball game) and introduced the patented "Magna-Save", in which a player-controlled magnet is used to prevent outlane drains. This was the first game that had both two-level and featured magna-save. The theme of the game is an evil knight vs. the player. Black Knight was one the first games to have speech which calls the plays on the playfield.
You won't be disappointed with this game. Can be test driven by appointment. Call me at 207-590-5197.
Sorry Game has sold. Thanks for looking!