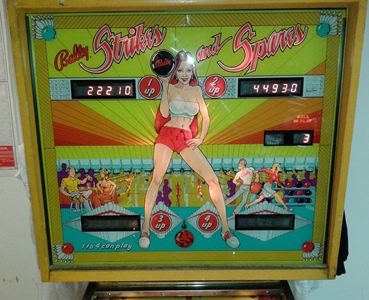 Bally Strikes and Spares Pinball Machine
–
Completely shopped 100%, looks great and plays fantastic.

Playfield stripped, cleaned, polished, waxed, all metal buffed, new lights, rubbers. Flipper coils new, new bushings and sleeves for that like new feel. All electronics checked and reflowed, new CPU board with lifetime guarantee.

ONE OF THE MOST FAMOUS BACKGLASSES IN ALL OF PINBALL ART HISTORY!

Own one of the true classics and make that game room stand out.
SOLD:
$1100.00
Thanks for looking!